Broadlands has installed 128 solar panels on the roof of the Nature Center and is generating power to offset the usage for that building. This nearly 40 kW system can potentially offset over 40 tons of CO2 emissions each year!
Check out the solar energy monitoring website to see how much power our system is currently producing.
Want solar for your home?
Our contractor, mtvSolar, is offering a Co-op Program through June 30, 2019   EXTENDED to August 31, 2019. The more Broadlands homes that go solar, the lower the cost of each system. For more information about the Co-op Program contact Danny Chiotos at 304-886-3389 or d.chiotos@mtvsolar.com.
Additional information:
How the Co-op Program Works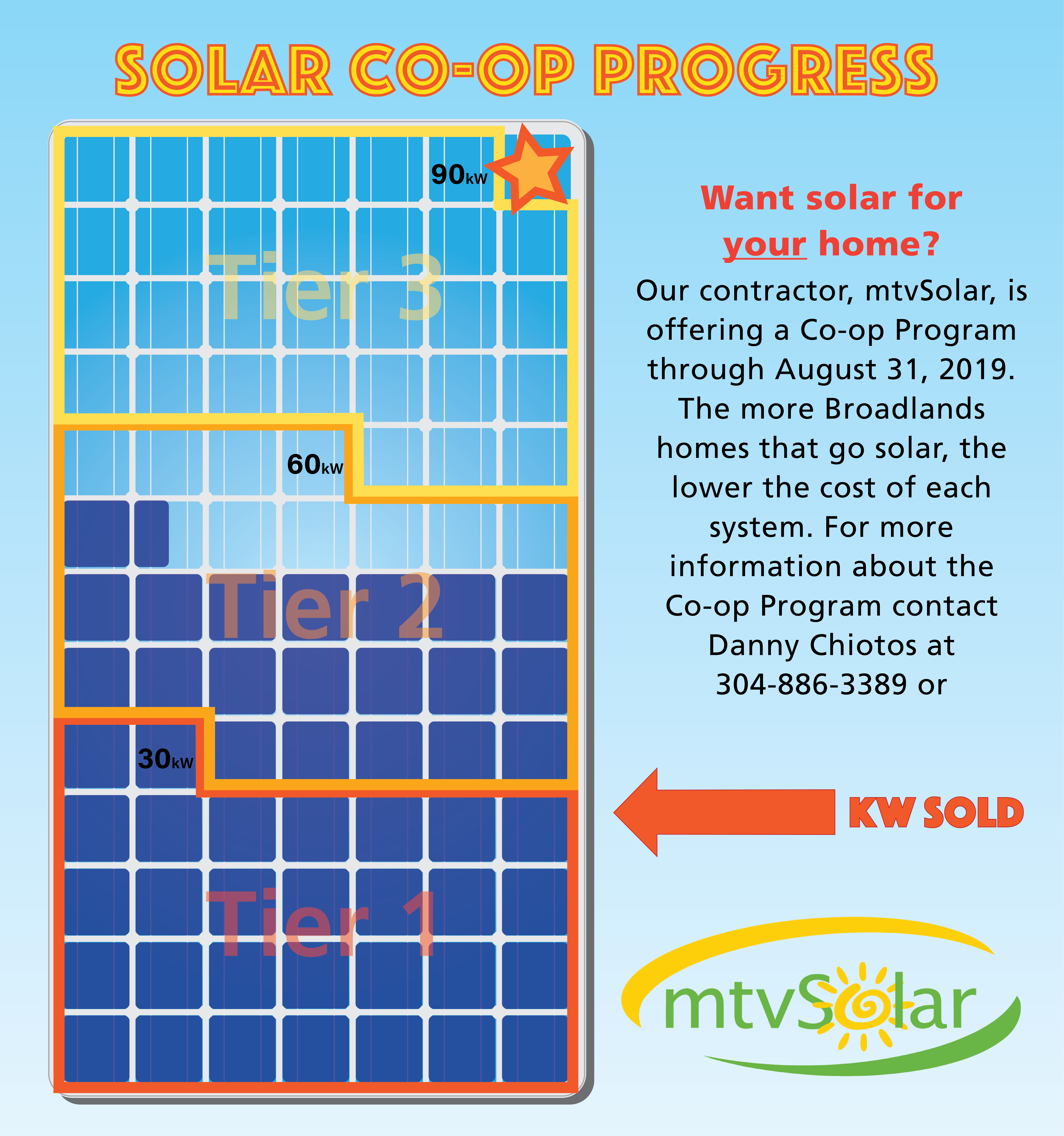 Example: A resident purchases a 6.8 kW system near the beginning of the Co-op Program period at Tier 1 pricing. During the Co-op Program period, the total kW installed in the community reaches 78kW. All residents now qualify for Tier 3 pricing. The resident above receives a rebate from mtvSolar, as the price per watt is less in Tier 3 pricing.
The more kW sold in the community,
the lower the pricing for everyone.
This is a simple example of the Co-op Program pricing only and does not take into account federal, state or local tax incentives or exemptions, which could provide additional savings.
Commercial Buildings
If you own a commercial building in Broadlands, you can also benefit from the Solar Co-op Program Pricing. Contact Danny Chiotos at 304-886-3389 or d.chiotos@mtvsolar.com for details.
Business owners can also benefit from:
30% Tax Credit
Depreciation of the system cost as a reduction in your business' taxable income
More information
Pricing is based on standard panels offered and standard installation. Your pricing may be different, based on other factors, not limited to:
Premium Panels
Electrical Service Upgrade
Interior Conduit Run
Flat Roof Installation
Steep Roof Installation
Multiple Roof Planes (more than 2)
Business & Occupation Tax
Consumption Meter
Squirrel/Critter Guard
https://docs.google.com/presentation/d/e/2PACX-1vRRC7GzYbNbW2bT516i8-5fW52-YWHCHzOycaUaE_fPN16EuqRks3cC3I7caT2Rrg/pub?start=true&loop=true&delayms=15000