ALL POOLS ARE OPEN  FROM MEMORIAL DAY WEEKEND THROUGH LABOR DAY
Broadlands has three neighborhood pools: Summerbrooke Pool, Southern Walk Pool and Community Pool.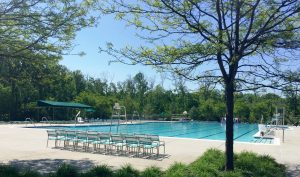 Pool Season Begins May 26… Do You Know Where Your Pool Passes Are? It's time to start digging around in the bottom of your pool bag or in the drawer with the swimsuits for your Broadlands Photo ID Pool Passes. Everyone aged 5 and older will need one to gain admission to the pools.  If you are 18 or older, you must provide proof of residency in order to obtain a pool pass. IF YOU ARE AN OWNER AND HAVE THE POOL PASSES YOU USED LAST YEAR, YOU DO NOT NEED TO SUBMIT AN APPLICATION. Passes will be electronically reactivated. If you cannot locate your passes, replacements can be issued free of charge during the month of April. Beginning May 1st, reprints will cost $5.00 each. If you want a new picture for your replacement pass, the cost is $7.00, regardless of when the pass is issued.  Children whose passes have not been updated in the last five (5) years should be brought in for an updated photo at no charge. Any individual who has turned 18 since the last pool season will need a new adult pass, provided free of charge, and will be required to bring proof of residency.
---
POOL APPLICATIONS
OWNER – 2018 Pool Application – available spring 2018
TENANT – 2017 Pool Application – available spring 2018…..IMPORTANT: In order to get access to our pools and other amenities, the tenant must have a current Absentee Owner Statement (AOS) form on file with the HOA and a copy of the lease.  This form is to be signed by the owner of the Broadland's property and submitted to the HOA along with a

copy of the lease.
Outside Pool Memberships (non-residents who wish to purchase a family membership for the season), click HERE>>
---
POOL HOURS AND LOCATIONS
Pools are open from Memorial Day Weekend through Labor Day
Summerbrooke Pool – 21580 Demott Drive – 703-724-9818
10:00 a.m. – 8:00 p.m. daily, including weekdays, even while school is in session.
Southern Walk Pool – 43081 Village Drive – 571-223-1331
When School is IN Session:   Weekday hours are 4:00 p.m. – 8:00 p.m.  Weekend and holiday hours are 11:00 a.m. – 8:00 p.m.
When School is OUT of Session:   Standard pool hours will be 11:00 a.m. – 9:00 p.m. daily; August 1st to Labor Day: 11:00 a.m. – 8:00 p.m. daily
Community Pool – 43008 Waxpool Road – 703-724-7830
When School is IN Session:  Weekend and holiday hours are 12:00 p.m. – 9:00 p.m. Closed on weekdays.
When School is OUT of Session:  Standard pool hours will be 12:00 p.m. – 9:00 p.m. daily.
2018 Lap Swim:

TBD
Hours are subject to change by the Board of Directors for special events, swim meets, swim lessons, other community functions, and/or maintenance and repairs as required. Therefore, please check the postings at pools for any changes to the hours of operation.
---
INSTRUCTIONS ON HOW TO OBTAIN A POOL PASS
New Owners: You must complete an

OWNER – Pool Application

, return it to the HOA office at the Nature Center and have your photos taken to be issued pool passes. Pool passes are issued to each individual aged 5 and older living in the household. A household consists of all persons living in the dwelling, including college students, other non-resident children spending the swim season in Broadlands and live-in care providers or others showing proof of residency in the form of a valid driver's license or other government issued ID or utility bill.
Tenants (new and existing): If an owner wishes to transfer their pool rights over to their tenant, then the owner must complete the Absentee Owner Statement (AOS) form and submit it along with the lease to the HOA office. Tenants must then complete and sign the TENANT – Pool Application for membership. In this instance, passes will only be issued to the tenants; not the owners. Existing tenants with AOS forms on file may use previously issued passes, but will only be valid through the lease date.  If a lease date has expired and will be renewed, it is the tenant/owner responsibility to complete a new AOS form and submit it along with a copy of the new lease to the HOA office.
Children:  Children who have turned 5 years old since last summer, or will be 5 years old by June 1, 2017, must have a pool pass for the upcoming pool season.  A pool application must be filled out and a picture taken so a pass can be issued. Please return completed pool applications to the HOA office at the Nature Center to add your child(ren) to your family data base. Children under 5 years old may obtain a pool pass in order to bring in guests to the pool. This will allow our 5 and under members the opportunities to have an older guest accompany them when other family members are not available.
Long-Term Guest Passes:  Long-Term Guess Passes are offered to allow visiting guests to use the pools unaccompanied by residents. The cost for the entire 2017 season is $100 per person. This price will reduce on July 1 to $75 per person and again on August 1 to $50 per person. They should be noted as a long-term guest on the pool application. The fee must be paid at the time their photo is taken and the pass is issued. The resident member must accompany the long-term guest to the photo session and show proof of identity and address.
Guest passes: 10 resident guest passes are allocated to each residence. Additional guest passes, good for 10 visits, may be purchased for $20. Members are limited to bringing 3 guests per member per visit to the pool. Guest passes are added to the electronic account of each residence and no physical passes will be issued. Guests must be accompanied by a pool pass holder to gain admittance to the pool facility. Rules regarding the use of guest passes can be found online at www.broadlandshoa.org.
Pictures: Beginning April 3, 2017, pictures will be taken at the nature center from 9:00 a.m. – 4:30 p.m. Monday through Friday on a first come first served basis. Walk-in applications will not be processed for same day delivery if received after 4:30pm.  In order to expedite lines and shorten your wait time, you may submit your application in advance via email to info@broadlandshoa.com or mail/hand delivery to 21907 Claiborne Parkway or fax to 703-729-9733. **NEW** Add your family's pool passes to the new Broadlansd HOA App, DETAILS>>
For those members who cannot make it during our normal business time, we are offering special hours for pool pass photos on the following days: TBD for 2018
Proof of Residency: Prior to having a photo taken, all adults 18 and older must show a photo ID with proof residency at a Broadlands Association residential address. Photos will not be taken if acceptable proof of identity and address are not available.
Acceptable photo IDs include:
Driver's License

School, Military ID

Current Passport
If your ID does not show a Broadlands Association address, the following will be accepted:
Utilitybill issued within the last 60 days

Settlement Papers or Deed

Current Virginia Voter Registration Card
For more information, please contact the Broadlands HOA office at 703-729-9704 or email info@broadlandshoa.com.
---
POOL RULES
---
SWIM LESSONS
High Sierra Pools offers swim lessons at the Broadlands Pools for all members with a valid pool pass. Please read PDF for details on lessons: available spring 2018
---
LIFEGUARDS NEEDED FOR SUMMER 2018 
SEE FLYER: Available spring 2018