The Community Center is located at 43004 Waxpool Road and is available for rental by Broadlands residents for private parties as well as for-profit and non-profit organizations.   Per the Fire Marshall, the capacity of the building is 108 persons however; the space has comfortable seating for approximately 60 adults. Scroll down for pictures. (Please Note: The Nature Center (including conference room) and Broadlands Station Clubhouse are NOT available for meetings, rentals, or non Broadlands Association, Inc. related events.) All rental transactions, including applications, payments and key fob pick-up, must be done at the HOA office located in the Nature Center at 21907 Claiborne Parkway during business hours Monday – Friday, 9:00 am-5:00 pm.
***IMPORTANT NOTICE – Renovations at the Community Center…We are excited to announce the remodeling of our Community Center located at 43004 Waxpool Road. Our contractors will be busy at work from approximately August 28, 2017 through October 13, 2017 updating and enhancing the interior of the building. We ask for your patience during these renovations as the Community Center will be closed and will not be available to rent. We recognize that this may be an inconvenience for our residents, however, we hope that the results of an updated facility are worth the temporary disruption. 
Please see pricing and rental information in links below…To check rental availability please contact the HOA at 703-729-9704 or email info@broadlandshoa.com. 
RESIDENT RENTALS
Rental Agreement for Residents – Review and return completed pages 5, 6 & 7

Cancellation Policy:  If a function is cancelled at least five (5) business days prior to the reserved use date, the rental fee and security deposit will be reimbursed, minus a $50 administration fee and any additional processing fees associated with the reimbursement. If cancelled within five (5) business days of the event, the security deposit will be forfeited plus an additional $50 administration fee will be charged. All refunds will be made within 30 days.
FOR-PROFIT / NON-PROFIT GROUP RENTALS – Currently being modified
Non-Profit Agreement:

For-Profit Agreement:

Rental Information:
---
A booking is considered complete when the HOA has the rental fee, security deposit, application, liability waiver and alcohol waiver (residents rentals only) on hand. Please submit to the HOA office at the Nature Center at 21907 Claiborne Parkway, Broadlands, VA 20148.
---
Community Center Surveillance System: CAMERA POLICY
---
Photos of the Community Center (pre-renovation)
Back Patio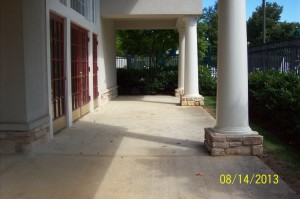 Interior
Kitchen                                                                 Restrooms
Storage with tables and chairs