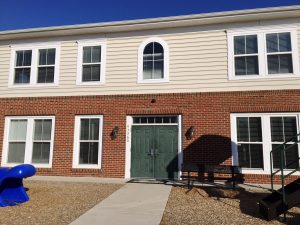 The Broadlands Fitness Center is located in the basement of the Clubhouse at 43360 Rickenbacker Square. The fitness center includes: 5 treadmills, 4 elliptical machines, 2 stationary bikes, 2 multi-functional weight trainers, 5 strength machines and a row machine. Hours of operation are from 5:00 a.m. to 11:00 p.m, 7 days a week. No entry is permitted after 10:30 p.m. All users of the fitness center must read and comply with the Fitness Center Rules. Read our policy on the Surveillance Cameras at the Fitness Center. 

After the application process and access card payment, you may pick up your access key card at the HOA Office at the Nature Center located at 21907 Claiborne Parkway. Once obtained, you can access the facility at 43360 Rickenbacker Sq through the lower rear doors of the building, facing the tennis court. 
For more information, please review the following information or contact the HOA office at 703-729-9704.
---
THE APPLICATION PROCESS IS DONE THROUGH THE HOA OFFICE AT THE NATURE CENTER LOCATED AT 21907 CLAIBORNE PARKWAY. PLEASE REVIEW THE PROCESS BELOW.
---
HOW TO GAIN ACCESS TO THE FITNESS CENTER
STEP 1: Please complete the Agreement/Waiver form below and return it to the HOA office at the Nature Center.  All eligible users who intend to use the fitness center MUST be included on the Agreement/Waiver form. Minors, 13-17 years of age, are permitted but only accompanied by an adult that is an access card holder.  Minors under the age of 13 are NOT permitted in the fitness center at any time.
STEP 2: Purchase an access card. Access Cards are $25 each and may be shared within your household or you may purchase additional access cards for household members for $25 each. You may pay online via credit card below or stop by the HOA office at the Nature Center to make your payment (credit card, check or cash accepted). Upon receiving a signed Agreement form and payment, the HOA will provide you with an access card. You must come to the HOA office at the Nature Center to pick up your access card. Cards are not mailed. The cost to replace a lost or stolen access card is $25. Please report lost or stolen access cards immediately to the HOA. 
Check Payments – Payable to Broadlands Association, Inc. and submit with your application form.
Credit Card Payments –  You may purchase your access card below if paying by credit card by clicking on the 'Buy Now' button and following the instructions on Paypal. (You do not need a Paypal account to pay via credit card.) On the right, below the Paypal Account option, click on 'pay with debit, credit card, etc' and select your payment method tab. Enter in information and select 'pay' at the bottom. You must provide all contact information when paying so we can verify your payment.
STEP 3: Read Fitness Center Rules – Violation of the fitness center rules may result in suspension or termination of privileges. Please note that members who are delinquent for 60+ days in their monthly assessments will be denied access. Frequent Violations at the Fitness Center>>

---